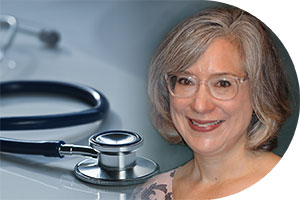 From Preventive Screenings to Real Life: My Story
By Diane Strzelecki, Communications Content Manager
When my annual blood test results in July 2021 flagged my cholesterol levels, I wasn't concerned — I was more worried about pre-diabetes warnings attached to my weight. My doctor agreed that adding daily 30-minute walks to my routine of yoga and horseback riding was appropriate. Cholesterol would take care of itself, I thought, so I didn't change my eating habits.
In November I was running errands when those cholesterol levels came back to haunt me. The ache in my chest that I thought was "normal" anxiety grew painful. I was convinced someone was in my car with me, breathing heavy and groaning. Panicked, I pulled into a gas station. I tried to get out of my car, but I couldn't use my right arm to undo the seatbelt. Then I couldn't make my legs work to get out of the car. It took me five or six tries to work the phone to call my husband—and when I did, I could hardly speak. I didn't have the words like "gas station" or "Thornton's," but, luckily, he asked the right questions and found me.
I thought I had a panic attack, but when the resultant headache grew unbearable, my doctor sent me to the ER. During a three-day hospital stay, I learned I had a mini stroke, which involves a temporary loss of blood flow to the brain. I also learned that this wasn't the first stroke I had experienced. There are more doctor appointments and blood tests in my future, but the hospital medical team agreed that high cholesterol is a likely cause.
While it's true that your yearly blood screening is your first step towards physical well-being, following through – the next 4 or 5 steps—is just as critical. Don't do it to check a box for your insurance or because your doctor says you should. Do it with the intention that you will use all the results to create a comprehensive list of action items for your health today and in the future. I know I will.
Don't Wait
To find out which preventive screenings or health actions may apply to you, go to https://health.gov/myhealthfinder and answer three simple questions. Then discuss the recommendations with your primary care provider.