Blogs That Can Help You Start the New Year Off Right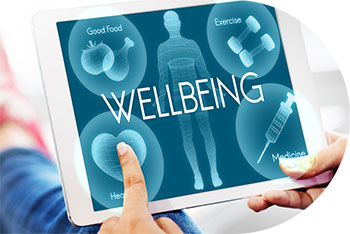 Your health and well-being might be at the top of your list as you prepare to set goals for the new year. Whether you are looking to start a new fitness routine or eat healthier, you might find yourself in an endless search to find quality information that sparks motivation.
We have done the legwork for you and rounded up a variety of health and wellness blogs that cover nutrition, fitness, emotional well-being and more.
ACE Fitness & Healthy Lifestyle Blog: You don't need to be a professional athlete to enjoy this blog. The American Council on Exercise's blog serves all fitness levels and offers healthy lifestyle tips for everyone. Enjoy tips on reducing stress, eating healthy and more.
Runner's Blueprint: Whether you are a seasoned marathon runner or running your first 5K, this blog provides information on all things running. There are posts about injury prevention, running gear, nutrition and running workouts.
Born Fitness: Confused about fitness? Learn science-based tips and advice from fitness and nutrition experts in easy-to-digest posts. Born Fitness strives to remove the complication and confusion and make it easier to reach fitness and nutrition goals.
MyFitnessPal blog: This blog is a great companion to the MyFitnessPal app. Access healthy recipes and information about nutrition, weight loss, fitness and inspiration. Plus, the blog has essential guides on hydration, strength training and more. For HealthFlex participants, MyFitnessPal is a piece of the nutrition guide offered by Virgin Pulse®.
Kath Eats Real Food + Healthy Mindset: This healthy living blog is managed by Kath Younger, a registered dietician. She not only provides recipes that actually taste good, but she also shares content on home organizing, motherhood, beauty and life. Younger breaks down the importance of good nutrition, eating a variety of colorful foods and rich nutrients and incorporates this in her recipes.
Live and Work Well: Not only can HealthFlex participants access details on the Employee Assistance Program (EAP) at this site, but by clicking the "Explore & Learn" tab at the top they can also find resources around career, well-being, financial and legal, mental health, and more. To access the Live and Work Well member website, log in to your Virgin Pulse account or Benefits Access.
Healthline: Find the latest health and wellness news that you can apply to your everyday life. Healthline features timely topics such as sleep health, women's wellness, mental health, parenthood and more.