Inflation: What You Should Know Right Now
By: Dave Zellner, Chief Investment Officer
As we head further into the New Year, inflation remains one of the hottest topics of discussion in the financial world.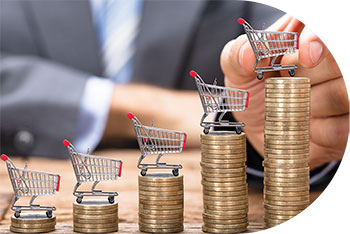 We've been talking about heightened inflation in the U.S. fairly consistently since at least June 2021, when the Bureau of Labor Statistics (BLS) reported that year-over-year inflation in May and June averaged over 5%.
At that time, Jerome Powell—head of the U.S. Federal Reserve (Fed), the central bank responsible for implementing monetary policies that support full employment and keep inflation under control—stated that high inflation was likely "transitory," or temporary.
Chairman Powell and many other economists claimed that a variety of unique, one-time events—mostly related to the COVID-19 pandemic, economic stimulus and a rise in consumer spending—had created a temporary phenomenon. For example, as economies reopened and large numbers of consumers began to travel and move around again, costs attributable to the transportation sector—such as gasoline, new and used cars, airfares, and rental cars—disproportionally contributed to higher prices.
Last summer, I wrote about pandemic-related inflation trends and mentioned that the big debate was really about whether heightened inflation would continue beyond 2021. Fast forward to last month, December 2021, and that debate had only intensified following several additional inflation reads from the BLS and shifts in where we were seeing inflation.
Indeed, concerns about persistent inflation grew because higher prices spread to everyday purchases such as food and housing. Even Chairman Powell changed his position, acknowledging late last year that inflation was more powerful than he'd previously anticipated and would likely be with us longer than he and other economists originally thought.
Despite this evolution, I still think we're in a similar place in terms of how to think about inflation. We know inflation in 2021 was the highest it has been in 40 years. What we don't know is exactly how long this current bout of inflation will last.
I do believe that, because of the pandemic, the U.S. is experiencing a transformation unlike any experienced in a generation. Consumer preferences have changed. Where we live and work has changed. We are continuing to experience supply shortages and labor shortages. It is going to take time for the economy to adapt to this new paradigm.
Inflation estimates might be useful in preparing us for what to expect this year. According to the University of Michigan Survey of Consumers, respondents expect inflation in 2022 will average about 5%. Economists are a bit more optimistic, expecting around 4% inflation. Of course, both consumers and economists incorrectly projected for 2021, so one should not assume these 2022 forecasts will be correct.
It's probably safe to accept that sharp price increases for certain goods and services will continue for the next year or so, and individuals will have to plan accordingly. Regarding how to prepare for this as a consumer, I like this guide from Consumer Reports. It provides tips on how to identify inflation and adjust your budgeting in the areas of food, energy, appliances, telecom and internet services, cars, televisions, and more.
You may also be curious about the extent to which Wespath will adjust its investment approach, or whether you should change your savings approach in this high inflation environment. As I've written many times, we do not try to predict the timing of market events like recessions or changes in inflation. We are long-term investors and remain confident that our disciplined and diversified approach will help our stakeholders reach their financial goals.
Nevertheless, we understand that each of our participants faces numerous unique considerations. That's why we offer EY Financial Planning services at no additional cost.1 If you are concerned about your personal finances and the potential impact resulting from inflation, call 1-800-360-2539, business days from 8:00 a.m. to 7:00 p.m., Central time, to speak directly with an EY financial planner. Or visit EY Navigate to access calculators, webinars, educational content and more.
1 Costs for EY Financial Planning services are included in Wespath's operating expenses that are paid for by the funds.
What Is Inflation?
According to Investopedia, inflation refers to a rise in the general level of prices in an economy. This figure is often expressed as a percentage. Inflation results in a decline in the purchasing power of money, as each unit of currency now buys less than it did before.