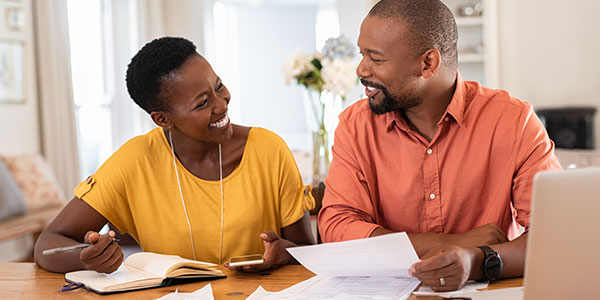 Financial Resources that Meet Your Needs
In almost any other year, many Americans would ring in the new year with a newfound resolve to stick to a budget or pay off credit card debt.
As we all are acutely aware, though, the coronavirus pandemic has affected personal finances across the country. One-third of adults said it was somewhat difficult or very difficult to pay for usual household expenses, according to a survey conducted by the U.S. Census Bureau from November 11-23, 2020. If finances are a source of stress, talking to someone can help you manage that stress. An Employee Assistance Program (EAP) offered through HealthFlex or your conference can help. Neither your conference nor your employer will be informed if you use this resource. For families covered by HealthFlex, the EAP provides eight free appointments per issue and you can call 1-866-881-6800 to get started.
When you are ready to think about your long-term hopes and dreams—or if you need to adjust your budget in response to the pandemic—a good first step is to develop a financial plan. Or, review your existing plan. EY recommends you begin by writing down your goals. Many financial goals require saving—and investing. EY financial planners provide one-on-one counseling to Wespath participants at no additional cost* and can assist with setting goals and establishing a financial plan, including help budgeting and managing debt. Financial planners at EY have received training in Wespath-administered plans and matters unique to clergy, such as the clergy housing allowance. Call 1-800-360-2539, visit the EY Navigate website or use the new EY mobile app to receive guidance from an EY financial planner.

If you would like your financial plan to dovetail with Wesleyan values, Wespath and Abingdon Press partnered to create a money management program that aligns biblical faith and personal finance. The program, Saving Grace: A Guide to Financial Well-Being, is designed to help clergy and laity alike reach personal financial goals and achieve a sustainable financial life. This six-week curriculum is intended to be used with a group, akin to a bible study. Saving Grace encourages discussion around topics including earning, spending, debt reduction and charitable giving. You can learn more at https://abingdonpress.lpages.co/saving-grace/.
No matter the state of your finances, Wespath is here to help with tools that meet your needs.
* Costs are included in in Wespath's operating expenses that are paid for by the funds. EY Financial Planning Services are available to active participants and surviving spouses with account balances, and to retired and terminated participants with account balances of at least $10,000.