When Caring for Your Well-Being Pays Off—Literally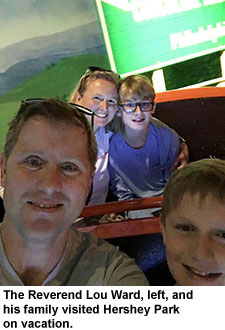 Summary
The Reverend Lou Ward from the Mountain Sky Conference used Virgin Pulse® to earn $1,000*, which he put toward a family vacation.
Virgin Pulse offers a range of physical, emotional, spiritual, social and financial resources and activities you can customize to meet your goals and interests.
Earn up to $410 annually through a variety of programs to support your well-being.
We all know the excitement of finding a $20 bill in the pocket of a coat you haven't worn in months. So imagine Rev. Lou Ward's excitement when he found $1,000 in his virtual "pocket" when he recently logged into his Virgin Pulse account before a family vacation to Pennsylvania.
"I've been using Virgin Pulse for a few years and just letting my (Pulse Cash) build up like credit card points," Rev. Ward said. "About a month before our trip I logged in to see what I had in my Rewards. I said, 'Holy smokes, I have $1,000!' It was great to have that extra freedom and spending money during our vacation."
Rev. Ward, the senior pastor at Wesley United Methodist Church in Pueblo, Colorado, his wife and two sons traveled to Pennsylvania, visiting Hershey Park and Philadelphia. He said the $1,000 from Virgin Pulse meant he didn't have to worry as much about being on a tight budget and could buy some extra treats for the boys.
Over the past few years, Rev. Ward has taken advantage of the full range of Virgin Pulse programs to improve his well-being and earn points—and dollars. Often, it was as easy as scrolling on his phone while drinking his morning cup of coffee.
"I have the Virgin Pulse app. It's really easy to use and a nice, neutral place to go and learn something new," Rev. Ward said. "Every morning, I do my Daily Cards to get new ideas on meditation, health and fitness, eating more fruits and vegetables. I really enjoy that. I'll read Success Stories, I even set up a Daily Challenge to remind me to put good in the world today; it doesn't have to all be physical (activities)."
In addition to daily tracking features in the Virgin Pulse app, Rev. Ward earned money by completing his annual Quest Blueprint for Wellness® Screening and using his activity tracker to track steps when he's out walking his dogs or hiking with his family.
Caring for your health and well-being is more than just an annual checkup. HealthFlex's well-being programs are designed to help you live your best life—and earn up to $410 annually—by being proactive in caring for yourself. Whether you're interested in physical, emotional, spiritual, social or financial well-being, Virgin Pulse has a tool to help you meet your goals.
"I encourage everyone to try out the Virgin Pulse app and check out the programs," Rev. Ward said. "When I hear people don't use it, it's like wasting money that you could be earning doing things Wespath encourages us to do anyways."
* Incentive rewards are provided in "Pulse Cash," the "rewards currency" for HealthFlex—you must be enrolled in Virgin Pulse to earn and redeem Pulse Cash. Pulse Cash is delivered straight to your Virgin Pulse account and can be transferred to your checking account or redeemed for gift cards, merchandise or charitable donations. The IRS considers cash wellness incentives as taxable income. Contact your tax adviser for more information.

Earn Up to $410 Annually Through Virgin Pulse Well-Being Programs
You can complete a variety of actions to improve your well-being and earn money, too!
Earn $100 by taking the Quest Blueprint for Wellness Screening. You can also earn up to 140 Wellness Credits based on your results.
Earn $150 by completing 150 Wellness Credits through activities like taking the Health Check, completing a Virgin Pulse self-guided Journeys® course, viewing a Success Story and many more.
Earn up to $160 annually ($40 per quarter) with Virgin Pulse Points. Record your healthy habits, browse recipes, track your activity, learn yoga and mindfulness tips, and more.
Get Started with Virgin Pulse
Check out the Virgin Pulse app in your app store. Once you log in, click Rewards to view ways to earn and find your earnings.
Not registered for Virgin Pulse? It's easy to get started at join.virginpulse.com/Wespath.