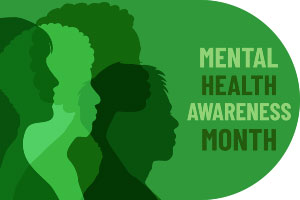 Continuing the Conversation About Mental Health
May is Mental Health Awareness Month and once again this year Wespath seeks to shine a light on mental health throughout the month—and all year long. We encourage you to help remove the stigma associated with mental health and, more importantly, continue the conversation about how to help ourselves and others during times of struggle.
One in every five Americans (52.9 million people) experiences mental illness each year, according to the National Alliance of Mental Illness. It's important to check in with your loved ones, and yourself, from time to time.
Wespath's 2021 Clergy Well-Being Survey showed a steady decline in mental and emotional health when compared to prior surveys, and as a response we offered First Aid for Mental Health training in March. Thousands of participants learned how to identify and understand mental health challenges with empathy and without judgement.
If you missed the training sessions, we encourage you to watch the recordings at wespath.org/r/firstaidmh and share them with spouses, Church leaders, staff and congregation members who were not able to attend. Consider starting an accountability group in your congregation to discuss the topics presented and practice the skills.
Share Your Story
Throughout the month of May, we hope to feature personal stories about mental health to inspire those facing similar challenges. We invite you to share your story to encourage others to focus on their own mental health. By sharing your story, it continues the conversation, creates awareness and removes the stigma around mental illness. Click here if you would like to share your story.
Additional Resources
The Emotional Well-Being webpage on the Wespath website includes links to several helpful programs and tools underneath the Resources headline. It also includes information about the HealthFlex Employee Assistance Program (EAP), which can be reached by calling 1-866-881-6800 or through Virgin Pulse for those covered by HealthFlex.
The EAP provides confidential counseling and support to help manage issues in your personal or professional life. Participants covered by HealthFlex—as well as participants' family and household members, including those not enrolled in HealthFlex—have access to eight free sessions per concern per year.