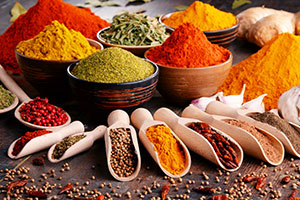 Turn Up the Spice!
If you've been told to eat less sodium, your first thought might be, "bo-ring!" But with the American Heart Association guidelines for consuming even less sodium it's more important than ever for heart health to cut out the salt.
Here are some ways to turn up the spice in your cooking so you don't miss the salt.
Fresh is Best
For many of us, meals may include boxed side dishes with spices included, canned vegetables and prepared spice mixes to save time. If you read the labels on these products, you will likely be shocked at the amount of added sodium. Instead, shop for, and cook with, fresh ingredients when possible. Control what you cook and you control the sodium.
Spice it Up
Get in the habit of seasoning your food with ingredients other than salt. You may find that you don't miss it.
Fresh herbs are amazing. They are easy to grow in most climates and hold up well in the freezer for future use.
There are all kinds of pepper shakers on the market that pack extra flavor—lemon pepper, garlic pepper, even cayenne pepper (go easy!).
Check your grocery store for low-salt seasonings. Mrs. Dash and other brands offer a variety of flavors that may become your new favorite salt substitution.
Add-ins
Sun-dried tomatoes, dried mushrooms, dried cranberries, dried cherries and other dried fruits are bursting with flavor. They add a ton of flavor not only to salads, but to many meat dishes as well.
Lemons, oranges and other citrus fruits are great as a meat marinade or salad topping.
Aromatics—there's a reason they have that name. Fresh onions, garlic, carrots and celery fall into this category. These foods can add a punch of flavor to any savory dish, so keep them on hand. Tip: When you are cutting up these flavorful ingredients, cut extra and store in the freezer to add ease to another night's cooking.
You likely would be surprised by how many flavored vinegars are on the market. There's Pear, fig, kiwi and more.
Dry mustard is a flavorful addition to many meats and vegetable dishes.
Dried Spices
Below is a list of common foods and herb, spice and aromatic suggestions to pair with them:
Carrots—cinnamon, cloves, dill, ginger, marjoram, nutmeg, rosemary, sage
Corn—cumin, curry powder, paprika, parsley
Green beans—dill, lemon pepper, oregano, tarragon, thyme
Tomatoes—fresh basil, bay leaf, dill, onion, oregano, parsley, pepper
Fish—Curry powder, dill, dry mustard, paprika, flavored pepper
Chicken—low-sodium poultry seasoning, rosemary, sage, tarragon, thyme
Pork—garlic, onion, sage, lemon pepper, oregano
Beef—flavored pepper, nutmeg, sage, thyme
Taste Training
After a period of adjustment, most people stop missing salt and start enjoying the other flavors of food.
Recipe: Avocado Deviled Eggs
Ingredients
6 eggs, hard boiled
1 ripe avocado, peeled and pitted
Juice of 1 lime
2 tablespoons mayonnaise
1 teaspoon chopped fresh parsley
2 teaspoons ground cayenne pepper
½ teaspoon ground turmeric
2 cloves fresh garlic, minced
Directions
1) Cut eggs lengthwise and remove yolks. Set aside half the yolks in bowl and discard the others.
2) In a medium bowl combine egg yolks, avocado, lime juice, mayonnaise, half of the parsley, cayenne pepper, turmeric and garlic. Spoon mixture into egg whites and garnish with other half of chopped parsley.