Virgin Pulse Program Results
A healthier Church and happier, more energetic participants are an important outcome of the Virgin Pulse activity program. However, the program has also demonstrated a positive relationship between participation and lower health care costs and lower cost trends. This exemplifies important financial stewardship of the resources of the Church.
Comparison of "average allowed medical costs" for Virgin Pulse participants from 2015-2018 showed the following:
Highest costs and highest claims trend for those not participating in Virgin Pulse or are inactive
Lowest costs and lowest claims trend for those enrolled and active in Virgin Pulse (high active and active groups)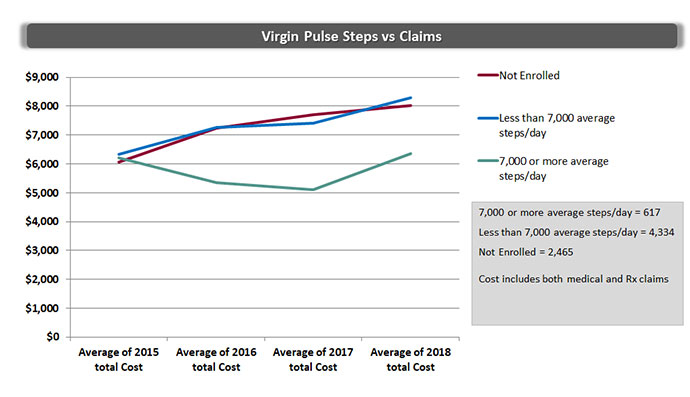 Based on HealthFlex medical claims data and Virgin Pulse participation data.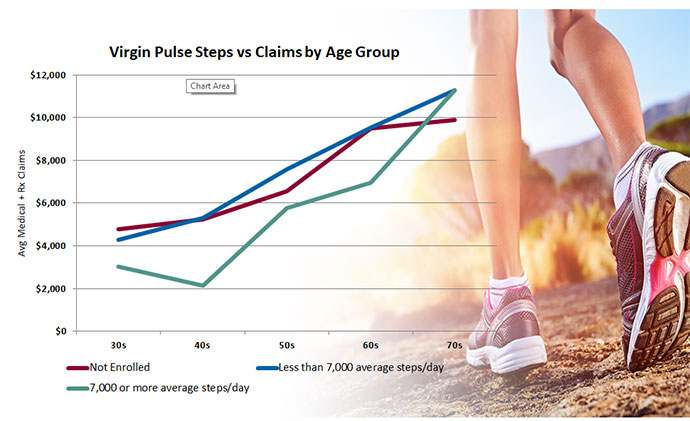 Participants taking 7,000 steps on most days have health care claims comparable to someone 10 years younger.
Virgin Pulse Program Participation in the UMC
Over 75% of United Methodist annual conferences sponsor the Virgin Pulse physical activity program—either through HealthFlex or on its own as a wellness program. All conferences that sponsor Virgin Pulse include active clergy and their spouses. Some groups also include retirees and conference- or church-employed laity. When retired participants are removed from participation analyses, over 60% of those eligible to participate are enrolled in Virgin Pulse, with almost half uploading HealthMiles regularly.
2019 Data
HealthFlex
Outside of HealthFlex
Total
Annual Conferences Participating
32
14
46
Other UM-Organizations
3
2
5
Number Eligible
17,562
8,834
26,396
Percent Enrolled
10,136
(57.7%)
5,965
(67.5%)
16,101(61.0%)
Let Us Know
Our website, programs and offerings are constantly evolving. Let us know what is working, what is not and what new content you would like to see on this site at [email protected].
Thank you for your feedback and continued support of denomination-wide clergy and lay worker health.