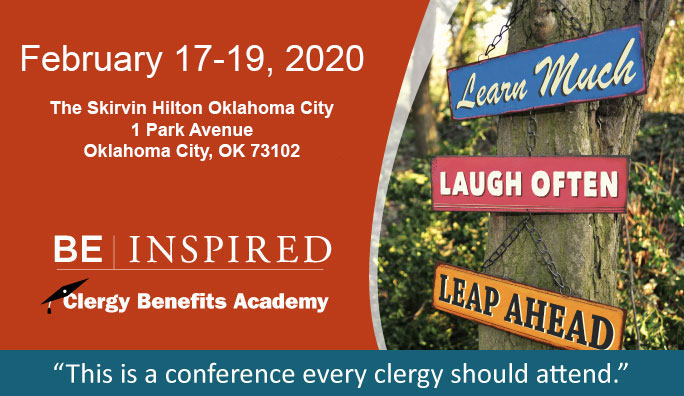 You're invited to be inspired!
Clergy of all ages are welcome!
There is something for everyone!

Details
All active clergy members of The United Methodist Church: Wespath Benefits and Investments (Wespath) invites you to attend the Clergy Benefits Academy!
The Clergy Benefits Academy is for all ages and stages of ministry—new ordinands, early-career clergy, mid-career clergy, ready-to-retire clergy, district superintendents, clergy in extension ministries—and spouses. There is something for everyone!
Plan now to attend! The Clergy Benefits Academy will be held February 17-19 in Oklahoma City, Oklahoma. This event is a unique opportunity to learn about the many benefit issues that affect your life and ministry. You can even earn continuing education units (CEUs) for attending.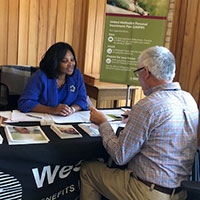 The Clergy Benefits Academy begins at 1:00 p.m. on Monday, February 17 with worship and an opening plenary session. The event concludes on Wednesday, February 19 at 2:30 p.m.

Classes are scheduled on a track, so you can attend each session. Your assigned track will be provided when you arrive at the event's registration table.
You can earn 1.5 CEUs if you complete 10 classes and 1 CEU if you complete seven classes.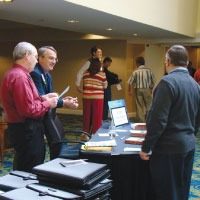 The CBA registration fee is ONLY $149.00 ($279.00 with spouse). The fee includes:
Breakfast and lunch on Tuesday and Wednesday
Refreshment breaks
Academy materials
Hotel Information

Wespath has negotiated a special room rate of $129.00 plus tax per night at the host hotel. Mention the group code (CBA) to get the discounted rate. Valet parking has been negotiated at a rate of $15.00 a night. There are other parking garages in the area of the hotel at lower rates if desired.
The Skirvin Hilton Oklahoma City
One Park Avenue
Oklahoma City, OK 73102
Phone: 1-405-272-3040
Skirvin Hilton Oklahoma City
The room rate is available until Thursday, January 16, 2020, based on availability.
View the Wespath travel Policy.
Note: Making the hotel reservation and paying for hotel accommodations are the responsibilities of the attendee. Please tell the hotel you are attending the Clergy Benefits Academy to obtain the negotiated rate.
Scholarship Opportunities
Scholarship Opportunities are available to help defray the cost of attending. Please contact a member of the events team for more information: Tori Luke at 1-800-269-2244, ext. 2720 or Renee Smith-Edmondson at 1-800-269-2244, ext. 4273.
Course Descriptions

Clergy Benefits Academy Courses and Instructors
CBA Instructor/Speaker Biographies
Courses
Making a Difference: Personal Savings and Wespath Services
Making personal contributions into the United Methodist Personal Investment Plan (UMPIP) is key to enhanced retirement security. Learn ways to maximize your saving potential, as well as how to tailor your investments with the LifeStage Investment Management Service to reflect your needs and personal circumstances. You'll also learn how to log in to Benefits Access—the online portal to your accounts at Wespath. UMPIP, LifeStage and Benefits Access are available to both clergy and lay employees.
Instructor: Robert Christophel, Benefits Educator, Wespath Benefits and Investments
Here's to a Healthier You!
We all know we are supposed to be more active and make healthier eating choices. Sometimes it isn't that easy. There is a lot of information out there and not all of it is evidenced based. This class will help you sort through that information and determine what is best for you. You will learn easy and practical tips on how to make better choices at the grocery store, find time for physical activity, and have fun while doing it. We will practice and share ideas during this interactive session, and leave you with practical tips and resources for a healthier you! Bonus practical materials for your congregation included, too!
Instructor: Leah Holzwarth, MS, CWP, Manager, Health and Well-Being, Wespath Benefits and Investments
Help! Clergy Tax Laws!
The laws relating to taxation of clergy compensation can be confusing. This class will help you understand your tax liability, the clergy housing allowance, accountable reimbursement plans and other issues unique to clergy. This is a practical class that will focus on the basic issues.
Instructor: The Reverend Nate Berneking, Director of Finance and Administrative Ministry, Missouri Conference
Achieving Financial Wellness
Do you have financial goals? Is excessive debt eating away at you? Are you monitoring your spending? This class will discuss tools you can use to plan for a more secure retirement. You'll learn about setting goals, the role of debt, the importance of net worth and other basic financial considerations that will help you plan for retirement security. This class is designed to give you basic tips and tools to improve your financial picture.
Instructor: TBD
When There's a Will There's a Way
Do you have a durable power of attorney or an advanced directive? Do you know where your important documents are located? Have you considered estate planning and your long-term financial legacy? Are you familiar with trusts and estate tax laws? This class is essential as you consider ways to care for your family's future.
Instructor: The Reverend David Bell, President and Executive Director, United Methodist Foundation of Michigan and a Senior Design Partner, Design Group International
Unexpected Events: Benefits You Need the Most
What happens when life throws you a curve and you face a difficult situation involving disability or incapacity? Learn how the Comprehensive Protection Plan (CPP) helps you through unplanned transitions. In this class, you will learn "what to do" and "what to expect" at those times when you and your family need benefits the most.
Instructor: Dale Jones, Managing Director of Church Relations, Welfare Plans, Wespath Benefits and Investments
United Methodist Pension Benefits Review
The United Methodist Church offers many benefits to its clergy. This class provides an overview of the benefits you and your family may expect from the Church when you retire. The class will focus on the Clergy Retirement Security Program (CRSP) and the Ministerial Pension Plan.
Instructor: Peter Hang, Conference Liaison and Dale Jones, Managing Director of Church Relations, Wespath Benefits and Investments
Chill and Refill—Creating Life Balance and Avoiding Compassion Fatigue
You will learn about the impact of unmanaged stress and boundaries that upset work/life balance and contribute to poor self-care, compassion fatigue and burnout. You will learn how to create healthy boundaries between work and home, as well as tools and strategies to avoid and/or recover from compassion fatigue.
Instructor: Jane Pernotto Ehrman, M. Ed., Images of Wellness, LLC
Special Opportunities
Special Opportunities
Staying the Course: Spiritually Prepared, Too
The work of ministry can sometimes leave us less time to listen to the spiritual dimension of our own lives. While helping others hear the spiritual dimension of theirs, we neglect our own. Yet we cannot share what we do not have! Significant life decisions about "staying the course" or "changing courses," reflecting choices in our work, personal or relational life, invite deeper discernment of God's presence. As a confidential, discussion-oriented group, we will consider four spiritual guidance questions, and seek a deeper discernment of our spiritual goals and practices, within our personal context. While financial health is a significant good, it is only one part of the holistic health and well-being we all seek. Together we will explore how to find well-being for ourselves and model well-being for our congregations—to be spiritually prepared, too!
Instructor: The Reverend Ron Johnson, PhD, Pastoral Psychotherapist at Bartlett UMC Counseling Center
Clergy Spouse Class: Sabbath Rhythms for Clergy Spouses
Do Sundays sometimes feel like just another workday? You are not alone! In confidential small groups, have fun playing a highly interactive Sabbath learning game built on common real-life clergy spouse situations. Explore ways to carve out restoration in God's presence … just not necessarily on a Sunday. Connect with other clergy spouses who are also seeking Sabbath rest, just like you!
Instructor: Julie Anderman, Artos Retreats
Clergy Spouse Class: Healthy Transitions for Clergy Spouses
Looking for healthy habits and strategies to help you navigate a variety of clergy spouse transitions? This session is designed exclusively for you! Small group discussion in a safe, sacred space will prepare your mind and heart for each phase of a transition. Together, you'll solve real-life clergy spouse scenarios about how to say goodbye, deal with the chaos, and plant new roots. Connect with - and learn from - other clergy spouses also preparing for transitions.
Instructor: Julie Anderman, Artos Retreats
Benefits Consultations
During on-site registration, schedule a consultation with a Wespath staff member. This private session is your opportunity to discuss your own account balance and pension projection. A knowledgeable Wespath representative will help you understand your specific benefit situation.
Pastoral Counseling/Spiritual Guidance
If you are looking for an opportunity to explore your individual wellness issues in a safe, confidential manner, this session—facilitated by a professional counselor—is appropriate for you. Gain perspective from someone outside your conference who can listen, problem-solve and bless you with a fresh outlook on how to resolve your specific issue as well as offer new ideas for living a healthy and balanced life.
Do you have questions about registration, travel, hotel accommodations or the day care opportunity?
Call: Tori Luke at 1-800-269-2244, ext. 2720.
Do you have questions about the class schedule?
Call: Renee Smith-Edmondson at 1-800-269-2244, ext. 4273.