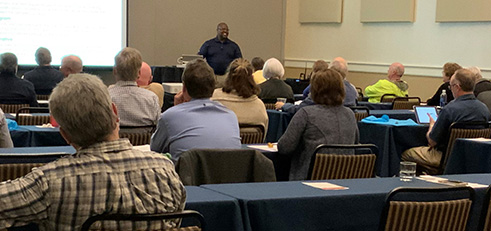 Clergy Benefits Academy
November 11-13, 2020
The Omni Interlocken
500 Interlocken Boulevard
Broomfield, Colorado
Be Inspired to move mountains!
An Educational Event for Clergy of All Ages and Stages of Ministry!

Event Details
All active clergy members of The United Methodist Church: Wespath Benefits and Investments (Wespath) invites you to attend the Clergy Benefits Academy!
The Clergy Benefits Academy welcomes all ages and stages of ministry—new ordinands, early-career clergy, mid-career clergy, ready-to-retire clergy, district superintendents, clergy in extension ministries—and spouses are welcome, too! There is something for everyone!
Plan now to attend!
This event focuses on the five dimensions of health: Spiritual, Social, Mental-Emotional, Physical and Financial. You will be motivated to review and refresh your personal portfolio in each dimension and be inspired to go and do things in a new and possibly different way to achieve impactful results.
The Clergy Benefits Academy begins at 1:00 p.m. on Wednesday, November 11 with an opening Wespath session and then worship and communion with the attendees from the revitup! event! (revitup! is an event for active clergy under the age of 39). As the revitup! attendees depart to go home and the Clergy Academy attendees arrive, it will be an awesome opportunity to worship together.
The Clergy Benefits Academy concludes on Friday, November 13 at 1:30 p.m.
The Clergy Benefits Academy incorporates core and choice classes. Core classes are scheduled on a track, so you can attend each session. Your assigned track will be provided when you arrive at the event's registration table. Choice sessions are offered on Friday. Your evenings are free so you can relax and refresh.
By completing 10 classes at this event, you will earn 1.5 Continuing Education Units (CEU's). If you complete 7-9 classes, you will earn 1 CEU.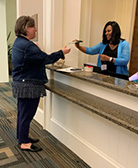 Registration
Register by October 9, 2020 for the Clergy Benefits Academy! Registration Fee is ONLY $179.00 ($339.00 with spouse).
The registration fee includes:
Breakfast and lunch on Thursday and Friday
Refreshment breaks
Academy materials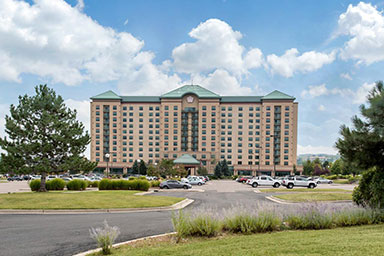 Hotel Information
The Omni Interlocken
500 Interlocken Boulevard
Broomfield, Colorado
Wespath has negotiated a special room rate of $142.00 plus tax per night at the host hotel. Mention the group code (CBA) to get the discounted rate. The room rate is available until Friday, October 9, 2020 - based on availability.
Please Note: Making the hotel reservation and paying for hotel accommodations are the responsibilities of the attendee. Please tell the hotel you are attending the Clergy Benefits Academy to obtain the negotiated rate.
View the Wespath travel Policy.
Wespath-arranged amenities for the Clergy Benefits Academy to care for your social, mental / emotional and physical health during your free evenings:
S'mores by the fire pit – Wednesday Night
Waived resort fee
Complimentary bottles of water (2 12oz bottles)
Unlimited use of 24 hour Fitness Center
Access to golf practice facility
Unlimited high speed internet in sleeping rooms
Complimentary transportation to local restaurants via hotel shuttle (3-mile radius)
Complimentary self-service parking and valet services
In addition, you can also take advantage of a:
10% discount on spa treatments at the Mokara Spa onsite. and
20% discount at the Interlocken Golf Club
Doing Good
Omni Hotels and Resorts Says Goodnight to Hunger
Since launching Say Goodnight to Hunger in June 2016, Omni Hotels & Resorts has made a donation to Feeding America® that helps provide one meal for every completed stay. To date, nearly 16 million meals have been donated to help Feeding America provide nutritious meals for food banks to feed children, families and seniors in communities across the United States. Omni is committed to helping the local communities in which it is located, so this event directly benefits food banks in Colorado. For each completed stay at any participating Omni, regardless of how the reservation is made, Omni donates one meal to a family in need. By attending this event and staying onsite at the host hotel, we are helping to feed families in need. Through this amazing program, Omni hopes to Say Goodnight to Hunger for good.
Travel Information
The Omni Interlocken Hotel and Resort, located in Broomfield, Colorado is 30 minutes from the Denver International Airport.
Currently (March, 2020) round-trip flights to Denver are lower than ever! Book your flight now to the Clergy Benefits Academy!
Options from Denver International Airport
Scholarship Opportunities
Limited scholarship opportunities are available to help defray the cost of attending. If you feel you cannot attend this event due to the cost, please reach out and explore the scholarship opportunity. Please contact a member of the events team for more information: Tori Luke at 1-800-269-2244, ext. 2720 or Renee Smith-Edmondson at 1-800-269-2244, ext. 4273.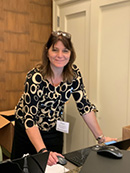 Day Care Information
If you are interested in childcare for the Clergy Benefits Academy, please let us know.
The revitup! event for clergy under the age of 39 meets Monday-Wednesday and complimentary childcare is provided. If you wish to attend the Clergy Benefits Academy and have young children, please let us know and we will consider extending the complimentary childcare option for this event as well.
Call Margaret Sanders (1-800-269-2244, ext. 2732) to share your interest in childcare.
Course Descriptions

Clergy Benefits Academy Courses and Instructors
CBA Instructor/Speaker Biographies
Core Courses
Choice Courses
Clergy Spouse Classes:
Course Descriptions
United Methodist Benefits Review 1
The United Methodist Church offers many benefits to its clergy. This class provides an overview of the benefits you and your family may expect from the Church when you retire. The class will focus on the Clergy Retirement Security Program (CRSP) and the Ministerial Pension Plan.
Instructor: Peter Hang, Conference Liaison, Wespath Benefits and Investments
United Methodist Benefits Review 2
From personal savings to knowing the benefits you receive when life throws you a curve, this class will review how you can save for tomorrow but also prepare for the bumps in the road. Focusing on the United Methodist Personal Investment Plan (UMPIP), the Comprehensive Protection Plan (CPP) and insurance considerations, you will better understand what you have and what you may need to do in order to effectively manage your portfolio.
Instructor: Robert Christophel, Manager of Benefits Education, Wespath Benefits and Investments
Help! Clergy Tax Laws!
The laws relating to taxation of clergy compensation can be confusing. This class will help you understand your tax liability, the clergy housing allowance, accountable reimbursement plans and other issues unique to clergy. This is a practical class that will focus on the basic issues.
Instructor: The Reverend Nate Berneking, Director of Finance and Administrative Ministry, Missouri Conference
When There's a Will There's a Way
Life throws us many curves—some expected and some unexpected. What can you expect if something happens? Do you have a durable power of attorney or an advanced directive? Do you know where your important documents are located? Have you considered estate planning and your long-term financial legacy? Are you familiar with trusts and estate tax laws? This class is essential as you consider ways to care and provide for your family's future.
Instructor: The Reverend David Bell, President and Executive Director, United Methodist Foundation of Michigan and a Senior Design Partner, Design Group International
Chill and Refill—Creating Life Balance and Avoiding Compassion Fatigue
You will learn about the impact of unmanaged stress and boundaries that upset work/life balance and contribute to poor self-care, compassion fatigue and burnout. You will learn how to create healthy boundaries between work and home, as well as tools and strategies to avoid and/or recover from compassion fatigue.
Instructor: Jane Ehrman, M. Ed., Images of Wellness, LLC
Social Enterprise in the Church Setting
Description to come.
Instructor: The Reverend Dr. Thad Austin, Duke Divinity School
Sharing Church Finances with Narrative Budgets
There are many ways to provide budgetary information to those in your congregation, but for some the numbers are hard to understand. This practical session will review the different types of budgets: Zero-based, Line-item and Program, but will introduce a new way to share the financial picture with a Narrative budget. This class will provide a new tool for helping your church members see the great things happening and hopefully inspire increased giving.
Instructor: The Reverend Cary James, Sharp Street Memorial Church, Baltimore, Maryland, Baltimore-Washington Conference
Getting Real About Money
Do what you have to do now, so that you can do what you want to do later. Planning for tomorrow starts with knowing where you are today. This workshop will look at your current finances, deal with real time money, developing a financial roadmap (budget), watching what goes through your hands (cash flow), identifying possible leaks, and saving for those short-term goals.
Instructor: Reverend Twanda Prioleau, Christ United Methodist Church in Baltimore City, Baltimore-Washington Conference
Understanding the Confusing World of Health Care
HRA's, HSA's…what? PPO, HMO, HIPAA…really? This class will decipher the acronyms and help you better understand the benefits available, how to use them.
Instructor: Bob Gerlach, HealthFlex Vendor Manager, Wespath Benefits and Investments
Transitioning to Retirement: The Personal Side
Transitioning to retirement begins with an "ending", pro gresses to a "neutral zone" and ends with a "new beginning". This class will explore each phase through the five dimensions of health: financial, physical, emotional, social and spiritual and will provide insight and thoughts for you to consider as you prepare for your major milestone of retirement.
Instructor: The Reverend Dr. Ron Johnson, retired United Methodist pastor and former director of the Bartlett United Methodist Church Counseling Center, Memphis Conference
Going Green: Practical Tips and Ideas
Wespath Benefits and Investments has gone "green" by introducing and implementing a waste management system. This class will explore the process, the learnings and will share practical tips and tricks to help your church go green. Wespath will also share other opportunities that are being offered to its staff members so you might go home with some new ideas to try, too.
Instructor: The Meeting and Event Team: Tori, Margaret and Renee.
Securing Benefits in a Season of Change – Wespath Benefits Proposals for General Conference 2020
There are many questions to consider as the denomination prepares for General Conference 2020 including benefits questions. This session will highlight the benefits proposals, answer your questions and share how Wespath is preparing to manage the results of this conference.
Instructor: TBD
Clergy Spouse Course: Sabbath Rhythms
Do Sundays sometimes feel like just another workday? Are you looking for ways to claim Sabbath time for yourself? You are not alone! In confidential small groups, re-examine the definition of Sabbath and how you, in your unique role, can carve out restoration in God's presence. A highly interactive Sabbath learning game, with common real-life clergy spouse situations, allows you to discover Sabbath options without having to reveal your own personal circumstances. Connect with other clergy spouses who are also seeking Sabbath rest, just like you!
Instructor: Julie Anderman, Clergy Spouse and Executive Director, Artos Retreats
Clergy Spouse Course: Healthy Transitions
Looking for healthy habits and strategies to help you navigate a variety of clergy spouse transitions? This session is designed exclusively for you! Small group discussion in a safe, sacred space will prepare your mind and heart for each phase of a transition. Together, you'll solve real-life clergy spouse scenarios about how to say goodbye, deal with the chaos, and plant new roots. Connect with - and learn from - other clergy spouses also preparing for transitions.
Instructor: Julie Anderman, Clergy Spouse and Executive Director, Artos Retreats

Special Opportunities
Benefits Consultations
During on-site registration, schedule a consultation with a Wespath staff member. You will receive a personal pension projection when you attend this event. This private session is your opportunity to discuss your pension projection, review your account balance, check your beneficiaries, ensure your information is correct and get answer to your specific Wespath benefit questions. A knowledgeable Wespath representative will help you understand your specific benefit situation.
Care and Counseling Session
If you are looking for an opportunity to explore your individual wellness issues in a safe, confidential manner, this session—facilitated by a professional counselor—is appropriate for you. Gain perspective from someone outside your conference who can listen, problem-solve and bless you with a fresh outlook on how to resolve your specific issue as well as offer new ideas for living a healthy and balanced life.
Do you have questions about registration, travel, hotel accommodations or the day care opportunity?
Call: Tori Luke at 1-800-269-2244, ext. 2720.
Do you have questions about the class schedule?
Call: Renee Smith-Edmondson at 1-800-269-2244, ext. 4273.