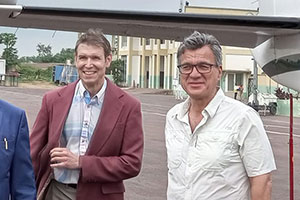 Seven Choirs, Aviation Ministry and a Hospital Visit Were All Part of Memorable Congo Trip
Dale Jones, Wespath's managing director of Church Relations, and Thomas Kemper, a consultant for the Central Conference Pensions (CCP) program, spent a week in the Democratic Republic of the Congo (DRC) earlier this year meeting with pension recipients, pension officers and bishops. Jones and Kemper visited three of the four episcopal areas in the DRC and documented their travels on social media. What follows is a digital diary recapping their journey.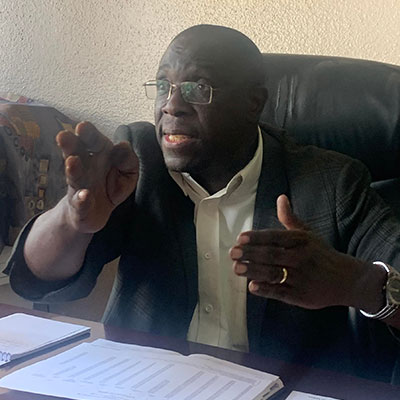 June 22, 2022 at Lubumbashi, DRC
Jones and Kemper kicked off their trip to the DRC in Lubumbashi and met with Rev. Hilaire Shete Lukonde (pictured), pension officer for the South Congo Episcopal Area. A total of just over 300 retired clergy, surviving spouses and beneficiaries receive pension payments in the episcopal area, which is comprised of five annual conferences. Jones and Kemper also toured Jerusalem Church, one of largest United Methodist (UMC) churches in the city of roughly 1.8 million people. The church campus includes elementary and secondary schools, a medical clinic, and a budding university.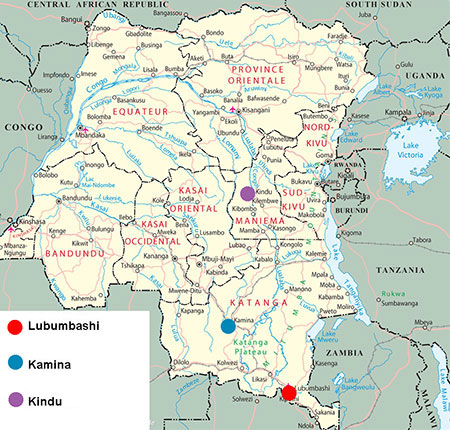 June 23 at Kamina, DRC
Jones; Kemper; Bishop Mande Muyombo, leader of the North Katanga Episcopal Area; and other episcopal area leaders flew to Kamina in the morning aboard the Wings of the Morning airplane. Wings of the Morning is an aviation program in the North Katanga Episcopal Area connected to the General Board of Global Ministries (GBGM).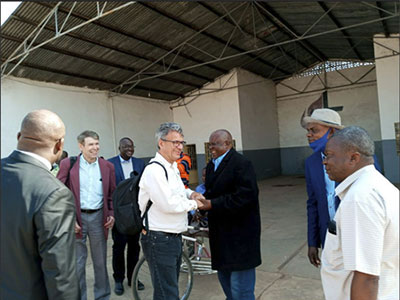 In addition to transporting pastors and missionaries throughout the region, pilot Gaston Ntambo Nkulu—who is also a GBGM missionary—and his Cessna aircraft deliver medicine and supplies to remote villages and bring rural residents to medical facilities for emergency care, according to the South Georgia Conference of the UMC, which has partnered with the North Katanga Annual Conference in recent years. The GBGM website noted that in March 2020, Wings of the Morning even flew a government delegation to peace negotiations for a violent, years-long conflict in the DRC. When Jones and Kemper landed in Kamina, retired Bishop Nkulu Ntanda Ntambo (pictured meeting Kemper) was there to greet them.
On June 23, as well as June 24, Jones and Kemper met with active pastors and pensioners in the North Katanga pension plan in large-group gatherings as well as at individuals' homes. North Katanga has over 900 active clergy and a little more than 500 individuals receiving pension benefits. Those numbers make it one of the largest UMC pension plans in Africa.
Wespath CCP Team Member Thomas Kemper Reflects on Congo Trip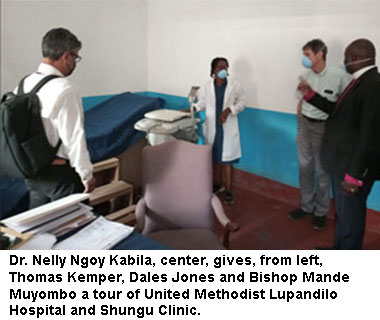 Prior to becoming a part-time consultant to the CCP Program in January 2021, Kemper served for a decade as general secretary of GBGM, the UMC's worldwide mission agency. During Kemper's time as general secretary, GBGM's Global Health unit awarded a $500,000 grant for renovations to the United Methodist Lupandilo Hospital and Shungu Clinic in Kamina, according to a UM News story. Kemper and Jones toured the hospital June 23 and saw the upgrades first-hand. Pregnant women, in particular, benefited from the renovations because the hospital received new ultrasound machines and incubators.
June 24 at Kamina, DRC
North Katanga clergy raised an arm (or two) toward the projector screen in their meeting to pray over Wespath general secretary Andrew (Andy) Hendren, who joined via a video call. Jones and Kemper also visited two large churches that are under construction and received a behind-the-scenes glimpse into the building process. On their tour they stopped at a stack of rocks several kilometers from one of the construction sites and learned that church members, primarily women, carry the stones to the church, where they are pounded into gravel for building materials.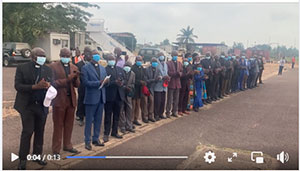 June 25 at Kindu, DRC
Ntambo and Wings of the Morning ferried Jones, Kemper, Bishop Muyombo and other North Katanga representatives to Kindu. When they got off the plane, more than two dozen members of the East Congo Episcopal Area's leadership were there to greet them on the tarmac with a song. Bishop Gabriel Yemba Unda, leader of the East Congo Episcopal Area, also was there to greet them.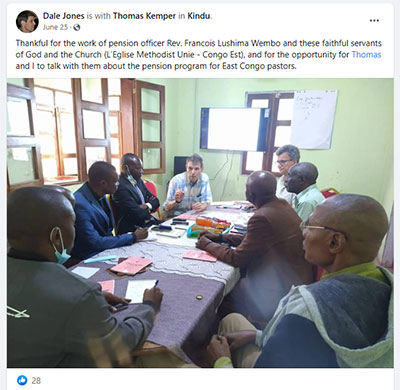 Jones and Kemper met with Rev. Francois Lushima Wembo, the pension officer for the episcopal area, to discuss the pension program for the East Congo pastors. There are approximately 160 total retired pastors, surviving spouses and beneficiaries receiving pension benefits in East Congo. And there are 426 active clergy in the episcopal area's pension plan.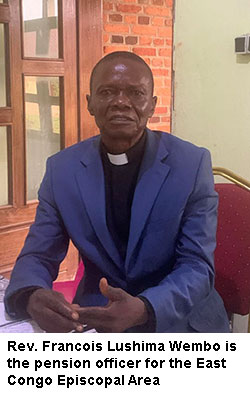 Jones and Kemper met with several East Congo leaders to discuss concepts for a sustainable pension plan. Some of the challenges for the East Congo plan arise from very low or inconsistent pastors' salaries, pastors and congregations displaced by war and violence, and recent natural disasters. Difficult changes may be needed to keep the plan viable.
Jones, Kemper and both bishops also visited the Mama Lynn Center, which supports women who are victims of sexual violence, as well as those who were abandoned by their husband and family. The Mama Lynn Center helps women learn trades, including sewing and soap making, so that they can earn money and become financially independent, according to a UM News story from 2021. The East Congo Episcopal Area opened the Mama Lynn Center in 2018 with assistance from the Tennessee, Memphis and California-Pacific conferences. The Center is named after Lynn McAlilly, wife of Bishop William T. "Bill" McAlilly, who now leads the Tennessee-Western Kentucky Conference.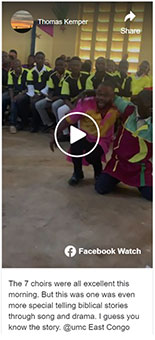 June 26 at Kindu, DRC
Jones and Kemper attended a Sunday worship at Eglise Locale Tokolote that featured seven choirs. Among the highlights was a choir's dramatic re-enactment of the Biblical story of Zacchaeus, the chief-tax collector who climbed a tree to see Jesus because he could not see the Lord among a crowd of people. Upon spotting Zacchaeus, Jesus urged him to come down and announced he would be staying at Zacchaeus' house that day. Zacchaeus responded by donating half of his possessions to the poor.
Playing the role of Zacchaeus, one member of the choir held onto a window frame and was perched a few feet off the ground. Another performer, playing the role of Jesus, pointed his right arm at Zacchaeus and then lowered it, urging him to come down. After Zacchaeus descended, the two embraced.
Bishop Unda presided at the service and Bishop Muyombo preached. As is customary in the Congo and throughout much of Africa, rather than ushers passing offering plates, church attendees bring their offering to the front of the church, or more specifically their offerings, as there are several separate offerings collected for different needs and purposes.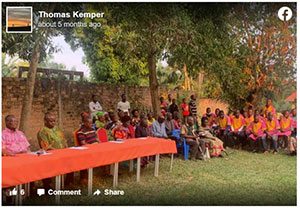 After the service, Jones, Kemper and Rev. Wembo visited the retired Reverend Wembolua Djunga, who lives near the church in a home he shares with his children. Rev. Djunga, who had served as the district superintendent in Kindu, is homebound and enjoys having his grandchildren under the same roof, according to Kemper's Facebook post.
Jones and Kemper met with retired pastors and widows from the Kindu area and attended a reception (pictured) hosted by Bishop Unda to honor and recognized the pensioners for their years of service to the Church.
June 27 at Kindu, DRC
Jones and Kemper left for Lubumbashi early in the morning.
June 28 at Lubumbashi, DRC
Jones and Kemper met early in the morning with Bishop Kasap Owan, the leader of the South Congo Episcopal Area, and his cabinet. Much of the time was devoted to an in-depth strategy session about the South Congo pension plan. Jones and Kemper then met with the pension officer from each of the four episcopal areas in the DRC.