As a local clergy or laity working in a local church, we understand you're working hard to stay connected with your congregation and local communities even while remaining socially distant. We know it's a challenge and at Wespath, we've been on a similar journey, seeking ways to stay connected to our participants, conferences, plan sponsors and investors. This page pulls together ideas and tips that may be helpful to maintain local connections. We've also included information your congregations and communities may be interested in, and we've packaged it so you can easily reuse it on your social sites, webpages or in your virtual bulletins.
Webinar—Taking Self-Care Seriously:
Managing Stress so You Can Care for Others
While you're ministering to others during these especially difficult times, have you put your own needs on hold? As a spiritual leader, tending to your own mental, physical and spiritual well-being will help you more effectively minister to others.
In this webinar from Amplify Media, pastors and chaplains offer practical techniques for building resiliency and guidance to help pastoral leaders resist the tendency to downplay their own self-care.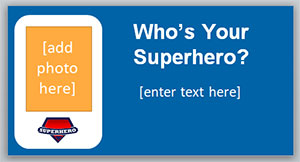 DIY "Who's Your Superhero?" Social Post
Use a template to create a social media post honoring one of your staff members or a person in the community who is working hard as an essential employee or to provide other service. Just add a picture and text to this PowerPoint template, click "Save as", choose .png or other photo file option and save to your device. Create your social post on Facebook, Twitter or Instagram, and attach as a media file.
Some of our favorite hashtags for this campaign are: #saythankyou and #gratitude. Be sure to tag (@) the person, place of employment, conference or other mention for the best visibility. Questions? E-mail: [email protected].
Scams are nothing new. Yet, they are definitely on the rise during the COVID-19 pandemic as scammers seek to take advantage of peoples' fears and anxieties. We've compiled some easy tools and tips that you can easily repurpose in congregational and community communications, aimed to help protect them from being a victim.
Phone Scams
Several governmental agencies have reported criminals contacting Americans by phone to commit financial fraud—including live calls, robocalls (recorded messages) and text messages. Here's a look at some of the reported scams:
Offers for lower-cost health insurance if you verify personal details
Offers for $30,000 in COVID-19 relief from the "FCC Financial Care Center" if you provide account information
Notices that the U.S. Department of Health and Human Services or another governmental agency is requiring you to click a link to take a "mandatory online COVID-19 test"
Requests for money to support the World Health Organization (WHO) or another organization
Offers for free COVID-19 test kits and/or diabetes monitors
Promotions for a COVID-19 cure requesting payment over the phone (Note: There is currently no cure for COVID-19)
Lists of work-from-home opportunities, student loan repayment plans and debt consolidation offers
Offers for small businesses funding or loans
Notification of a two-week national quarantine with an offer to purchase supplies by phone
The Federal Emergency Management Agency (FEMA) is tracking rumored scams in an attempt to protect individuals. If you receive an offer like those listed above, check the FEMA Rumor Control page and the official, verified website for the organization referenced in the potential scam to see if the information is accurate.
How to Stop Phone Scammers
Below are recommendations from the Centers for Disease Control and Prevention (CDC) and Federal Communications Commission (FCC) for protecting yourself against attempts to access your personal and financial information through phone scams.
Prevent robocalls and texts by registering for the national Do Not Call list online at donotcall.gov or by phone at 1-888-382-1222 (voice) or 1-866-290-4236 (TTY).
NEVER provide personal, medical or financial information in response to text messages or phone calls you receive.
Treat your cell phone as you do your computer by keeping your security software and applications up to date.
Set your phone to lock automatically when you aren't actively using it. Unlock it via fingerprint scanning, facial identification or a strong device password.
Don't be rushed. You're less likely to think critically about risk when there's a limited time to respond.
Avoid clicking links in text messages. Doing so may infect your mobile device with a virus or malware that can steal your personal or financial information.
Verify the telephone number listed in a text message or in a voice message before calling back. Contact the bank, government agency or company identified in the message directly.
Do not respond to texts, emails or calls about offers or information that you are not expecting or are from an unknown person—even to ask the sender to remove you from their list. Responding verifies that your phone is active, which may lead to an increase in unsolicited contact.
Remember, Wespath follows best practices for securing phone calls and will not send unsolicited information via text message. (Note: When you contact Wespath's call center, we may text you to verify that we are speaking to the right person. In addition, text messages may be sent for verification in Benefits Access). Our strict security protocols are designed to keep your information safe.
If you think you've been a victim of a coronavirus scam, contact law enforcement or report it to the FCC.
As life in a COVID-19 world continues, it is more important than ever to maintain connections with your congregation and your community. The challenge is how to do that when in-person communications are not always feasible.
A simple way to communicate effectively with your congregation is with video. Video is the perfect communication vehicle when you want to speak to a large audience and make sure everyone is receiving the same message. And, it doesn't require a ton of expensive equipment. You can produce your own videos with nothing more than a smartphone or tablet and some simple, free downloadable video editing software. Utilizing these everyday devices, you can be as effective as most large corporations are nowadays in communicating with their audience.
Following are some tips that were developed by Wespath's Communications Department when faced with the same challenge these past few months.
Personal Appearance
Solid colors tend to come across better than intricate patterns.
Stick with primary colors or earth tones. Also avoid too much red.
Wear an outfit that will conceal sweat stains in case the spotlight or your nerves make you perspire.
Maximizing Your Effectiveness
Stay hydrated by taking sips of water before filming and between takes. Your parched throat can ruin an otherwise great take.
Familiarize yourself with the script, but do not memorize it word for word. You might sound stiff or speak in a monotone if you're reciting from memory. Be comfortable enough with your talking points that you are able to speak naturally during filming, but still cover everything that is critical. A conversational approach sounds best.
Find your calm. Increased stress level causes hormones to flood your body when you're nervous—which can sap your energy and cloud your thinking. Immediately prior to filming, do something to calm our nerves (for example: listen to music, exercise, do yoga or eat your favorite snack).
On the other hand, you need to bring your energy level up. The camera takes about 20% of your personality away. Have fun; be energized.
Remember to take it slow. People tend to speed up their speech when they are nervous. Aim to speak a little slower than normal, and it should be perfect.
Go easy on yourself. Mistakes happen, and a stumble over a word or two becomes much less significant to the end result.
Body Language
Remember to smile.
Periodically, check in on your body language to see if you are tensing up. Some subconscious signs include:


Crossing your arms
Bouncing your leg
Gritting your teeth
Clearing your throat
Scrunching or wiggling your eyebrows
Swaying
Blinking excessively
Swallowing hard
Set-up
Set the iPad/tablet, phone or laptop on a steady surface. You can use your camera/video to record. (Or iMovie, if you prefer).
For recording the video, make sure the camera is set to record at 1080 at 30fps. If using an iPhone, click "Settings" then "Camera". Then, set the "Record Video" setting at 1080 at 30fps. This will give you the quality we need.
If possible, position the camera slightly above your head height you so are looking up at it (just an inch or two up). Try to avoid looking down at the camera. A mantle or book shelf work well.
Don't place the camera too close—test it in the 3-6 feet range so the sound is still strong yet your face is not covering the entire screen.
Natural light is important. Windows behind you look very dramatic but can cause lighting problems. Shoot a test video to see how it looks.
Look at your background. It should look like you're recording from home but not be too cluttered. Avoid standing in front of a blank wall, but don't have too much going on in the background so that it distracts viewers from focusing on you.
Do a few practice runs—to see how you look, how comfortable you come across, how your voice sounds, etc.
You might want to write out key messages where you can see them as you're recording… sort of a DIY teleprompter. But don't position them so that you have to turn your head or move your eyes to read them. If you need to refer to notes, take a second, look down at them, and then look back to the camera before speaking again.
Recording
Wait 5-10 seconds before you start to speak. That allows for some room to edit.
Keep recording 5-10 seconds after you're done talking—keep looking into the camera and smiling.
Speak a bit louder than you would normally. Even the best of available options for home-recording have less-than-ideal microphones.
Export the finished product at 1080p and as an .MP4 rather than a .MOV. You can also use iMovie to convert the video if Quicktime does not allow for MP4.
Editing
Adobe Premiere editing software is one of the most popular, but it can be difficult to use if you haven't done so previously.
There are a number of free video editing software packages available online. A few of the most highly rated include OpenShot, VSDC Free Video Editor, Movie Maker 10 and HitFilm Express.
Social networking sites like Facebook, Twitter, LinkedIn and Instagram are great tools for connecting, but they can also be data mines for criminals. Many financial institutions secure your accounts with challenge questions as an extra layer of security to protect your accounts and verify your identity. However, if you have a social media account, you may be freely sharing those answers with anyone you "friend."
By their nature, social sites are personal, but you should consider anything you post online to be public. Messages that most consider to be innocuous could make you vulnerable even if you have a high security setting on your account. The websites you subscribe to, the apps you download, the games you play and the "challenges" you take part in on social networking sites all contain personal information about you—some may even be designed to collect your data.
For example, the FBI reported on a recent trend where people shared their high school photo to support the class of 2020. Those who took part exposed their school name, mascot and graduation year—all common password-retrieval security questions.
Other examples noted by the FBI include posting a picture of your first car; answering questions about your best friend; providing the name of your first pet; identifying your first concert, favorite restaurant, or favorite teacher; and tagging your mother, which may reveal her maiden name.
An April article from Forbes Magazine's website warned of quizzes claiming to test a person's knowledge of coronavirus and the impact of the pandemic. In reality, some of these quizzes are designed to obtain personal information and facilitate identity theft.
How to Protect Your Private Information
There are ways to make it more difficult for criminals to access your information. Follow these tips to stay safe while connecting via social media:
Use a complex password for your social accounts and set up multi-factor authentication.
Set your privacy settings to high or "Friends Only" and use available "Do Not Track" features.
Check for a blue verified badge next to the account name, which indicates an official account.
Periodically check your social accounts—unused social accounts can be targeted by hackers, who could post fraudulent messages under your name.
Don't reveal your location in your profile or geotag your pictures with your location.
Beware of shortened URLs, such as those created on bit.ly and TinyURL—hover over the link to view the full URL in the lower corner of your browser.
Contact your friends in real life before accepting "friend" requests to ensure you're not being targeted by an imposter account.
Be careful when signing up for giveaways—they may be scams designed to steal your information or may contain malicious links.
Beware of the terms and conditions of quizzes and social apps (e.g., "What's your personality type?" Or "Which celebrity is your spirit animal?"). Some may give the developers access to your name, pictures, friends and account history, IP address and device, as well as permission to sell your data to third parties.
Don't post status updates sharing information that can be used to answer security questions.
Never publicly post any of the following on your social accounts:


Full name
Date of birth
Hometown
Relationship status
Nicknames
Children's names, schools or birth dates
If you think you've been a victim of a coronavirus scam, contact law enforcement or report it to the FCC.
Last year, a research study found that 14.4 million people were victims of identity fraud. Thieves can do much more than make purchases with your stolen financial data. The Federal Trade Commission (FTC) reports identity theft can also drain your bank accounts, open new utility accounts, get medical treatment on your health insurance, file tax returns in your name and receive your tax refund, cause you trouble with police by providing your name during an arrest and even resell your information to other criminals.
It's important to act fast, since delays in identifying a data compromise can allow thieves to do more damage to your financial future. So how do you know if criminals have stolen your personal information?
Clues That Your Information Has Been Stolen
According to the FTC, you should look out for the following clues:
You see bank withdrawals you didn't initiate or unknown charges on your credit card
You don't receive bills or other mail you were expecting
Your checks are refused
You receive calls from debt collectors about debts that aren't yours
Your credit report shows unfamiliar accounts or charges
You receive medical bills for services you didn't use
Your medical records show a preexisting condition you don't have that causes you to be denied for medical or life insurance coverage
You receive notice from the IRS that you filed more than one tax return or that you have income from an unknown employer
You are notified that your information was compromised in a data breach
10 Steps Toward Recovery
Once you know there is a problem, take the following steps to minimize the damage.
1. File a police report and notify the FBI and Federal Trade Commission (FTC).
A police report notifies local police of criminal activity and allows you to protect yourself if your information is used to commit a crime. You also can file an online complaint with the FBI's Internet Crime Complaint Center at https://complaint.ic3.gov, and a report with the FTC at identitytheft.gov so information can be shared with law enforcement agencies.
2. Notify the IRS and your identity theft insurance, if applicable.
A Form 14039 Identity Theft Affidavit notifies the IRS if your Social Security number was used to file a fraudulent income tax return. If you've purchased an identity theft insurance policy, file a claim to help limit your financial losses. You may also have benefits through your homeowner or other insurance plan.
3. Place a free fraud alert or security freeze on your credit reports.
Request a free fraud alert from the three major credit bureaus—Experian, Equifax and TransUnion—to automatically notify any institution that pulls your credit report that your identity was compromised for one year. You will receive access to a free credit report from each bureau.
You can also request an extended fraud alert that lasts for seven years and allows you to receive two free credit reports from each bureau within 12 months.
A security freeze differs from a fraud alert because, instead of just notifying you of requests, it prohibits your credit report information from being released without your express approval. This prevents a credit bureau from approving new credit, loans or other services in your name without your authorization. If you have children, consider freezing their reports as well since they too can be victims of identity theft.
4. Review credit card and bank statements for other unauthorized charges.
Pull up statements for all of your accounts—including dormant or infrequently used accounts—and scan them for charges you don't recognize. Don't discount small amounts (e.g., $1). Sometimes thieves start small to see if the activity will be flagged before making large purchases. If you find unknown charges, notify your financial institution.
5. Open new credit card and financial accounts.
Close all of your accounts and open new ones (with new account numbers), even if all accounts haven't been compromised. This helps prevent a thief from gaining future control of your money.
6. Tighten security on your accounts.
Create new passwords for all of your accounts. Make sure each password is complex and unique. If you have a hard time remembering passwords, consider using a reputable password manager to ensure all your accounts have strong passwords. These services generate passwords that cannot be easily guessed and then store and autofill them on websites so users don't need to remember each one.
7. Take advantage of all of your rights under the Fair Credit Reporting Act (FCRA).
The FCRA is a federal law designed to ensure fairness, accuracy and privacy of the personal information collected by credit bureaus. It regulates the collection of, and access to, consumer credit information. These rights include:
Placing credit bureau fraud alerts and getting copies of your credit reports
Placing a security freeze on your credit report
Obtaining documents related to fraudulent transactions or accounts
Obtaining information from debt collectors
Blocking the damaging information so it doesn't appear in your credit reports
Stopping businesses from reporting inaccurate information to the credit bureaus
8. Alert your health insurance and medical care providers.
Contact your providers to make sure your insurance information hasn't been fraudulently used to receive healthcare services—such as seeing a doctor, receiving prescription drugs, having surgery or visiting an emergency room.
9. Contact your state's DMV or licensing agency.
Ask your state's licensing agency to place a flag on your driver's license and/or ID number to notify law enforcement in case your ID is used fraudulently to write a check, during a traffic stop or to make a fake license.
10. Sign up for a credit monitoring service, if offered.
If your information was accessed in a data breach, you may be offered complimentary credit monitoring, which alerts you to suspicious activity or new account openings. You can also pay for a reputable service, and some plans can limit or cover financial losses associated with identity theft.
If you need help developing a comprehensive identity theft recovery plan, visit the FTC's identity theft website.