Investment Insights Blog: Start 2022 With Our Favorite Investment Podcasts, Commentary and Twitter Follows!
January 18, 2022

By Joe Halwax, CAIA, CIMA
Managing Director, Institutional Investment Services
2021 was whirlwind! Consider where we started the year: many areas of the economy still faced COVID-related restrictions, COVID vaccines were just starting to roll out, and large gatherings were mostly outside and socially distanced. Though COVID remains ever-present, things have changed over the course of 2021.
As we head into the new year and look forward to a brighter 2022, I hope our readers can enjoy some well-deserved rest and relaxation. For those of you with New Year's resolutions and exciting plans for the coming months, I also hope you hit the ground running.
On that theme, I wanted to answer a question that our participants and investors frequently ask: How do you stay informed on the markets and economy? Now is the perfect time to add new podcasts, bloggers and newsletters to your investment resource rotation, and I thought I'd share some of my favorites. I hope you find them useful—perhaps some will become your favorites as well!
Market Research and Insights
As many of you know, the Wespath funds primarily invest in strategies managed by industry leading asset managers. Oftentimes these asset managers conduct and publish high-quality research and insights. While some of this content is published behind paywalls or exclusively for clients, there are still several manager-produced materials that I encourage you to check out.
Two of our asset manager partners—J.P. Morgan Asset Management and BlackRock—publish informative weekly resources, which we in turn share in our "Wespath Market Update" email each Monday. It's a great way start your week with the latest market news.
To receive our weekly email distribution, just send us a note at [email protected].
Podcasts
It may come as no surprise that we have several "podcast nerds" here at Wespath, myself included. Our CIO Dave Zellner and I both shamelessly talk about our favorite podcasts, and we don't hesitate to disagree with those we feel miss the mark. Here are a few of my personal favorites:
Other Online Resource Available to You
While it's not free, I do recommend a digital subscription to The Wall Street Journal. At the time of this writing, it's available on sale for $8 per month for your first year; it's usually $40 per month. The Journal offers about 20 different push notice alerts that you can subscribe to, covering news, markets and politics. There are also roughly 40 newsletters—basically, they break the entire paper down into pieces and allow you to subscribe to the newsletter version of those you find most useful, while also providing a link to the full digital edition of the paper.
I like getting separate notes on markets, economics and sustainability, as well as "The 10-Point," which provides a summary of 10 thematic stories of the day. While it was fun to read The Journal's print edition in the 1990s—hint, Joe is old!—you cannot beat the convenience of the slice-and-dice, delivered-to-you approach of today.
If you're really interested in financial markets, I'd also check out Koyfin, an investment analytics platform. Most people don't have ~$20K per month for a professional Bloomberg terminal with live market feeds and endless data, but Koyfin is a pretty robust alternative. It allows you to create custom dashboards for the indexes, stocks, sectors, currencies and commodities that you want to follow. It's free to sign up, and in my time using it, they send very little spam via email. Here's a sample screenshot of my dashboard: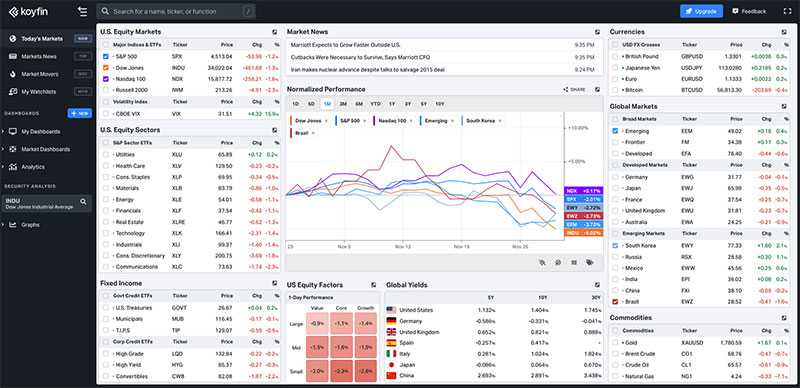 Twitter Accounts to Follow
I have been known to complain about the quality of the content and discourse on Twitter from time to time, but there's no denying that with discipline, one can curate a valuable "timeline" for themselves. For instance, there is a devoted community of finance and investment folks on Twitter, often called "FinTwit," which often fosters great discussion. You can also read the latest thoughts from fairly famous investors in real time.
Here are some of my favorite accounts to follow, in no particular order:
Of course, all the opinions of these Twitter users are their own, and your mileage with them may vary. Once you start to follow these FinTwit-type accounts, Twitter's algorithm will start to recommend others, and, with a bit of trial and error, you'll be able to create a timeline that you find informative.
I hope you enjoy at least a few of these recommendations – have a happy New Year!