Press Release: Andrew Hendren Elected Wespath's next CEO and General Secretary
July 15, 2021
For Immediate Release

Contact: Julie Capozzi
Managing Director, Communications
(847) 866-4111
[email protected]

Andrew Hendren Elected Wespath's next CEO and General Secretary; will succeed Barbara Boigegrain, the agency's longest-serving leader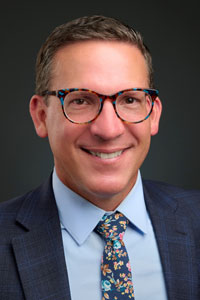 Glenview, IL—Wespath Benefits and Investments (Wespath) today announced that the Wespath Board of Directors has elected Mr. Andrew Hendren as Chief Executive Officer and General Secretary-elect. His service as CEO and General Secretary begins on January 3, 2022. Mr. Hendren currently is Wespath's chief legal and governance officer. He will succeed Ms. Barbara Boigegrain, who will retire after serving in the role for more than 27 years.
"Andy is widely known and trusted across United Methodism," said Bishop Robert Schnase, chairperson, Wespath Board of Directors. "Over his 17 years at Wespath, he has worked with the Council of Bishops, general secretaries, conference benefits officers and treasurers, chancellors, various interest groups, and the General Conference." Bishop Schnase added, "He is respected by his colleagues at Wespath and knowledgeable of the organization's history, governance and principles. Andy has a sincere passion for the mission of Wespath to help those who serve. His credibility and experience provide stability and continuity in a time of uncertainty in The United Methodist Church."
"I am grateful for the purposeful efforts of our Board in their search for Wespath's next general secretary," said Mr. Hendren. "I am honored they have entrusted me with leading Wespath and its talented and dedicated employees. I have learned much about leadership from Barbara Boigegrain, who has been transformative for Wespath in her 27 years. Wespath's mission of caring for those who serve others has shaped my life's work these past years, and I am prepared and excited to guide the next chapter of Wespath's service and support for our participants and investors."
Mr. Hendren joined Wespath in 2004 as assistant general counsel focused on health and welfare benefits. Throughout his time at Wespath he has taken on increasingly complex and challenging roles and responsibilities. In 2015, Mr. Hendren was promoted to general counsel and joined the Wespath Senior Leadership Team (SLT). As organizational complexity increased due to the addition of Wespath Institutional Investments in 2019; increased government regulation; and ongoing denominational discussions around The United Methodist Church (UMC) structure, governance and potential schism, Mr. Hendren's responsibilities were expanded to include a stronger governance and compliance focus. With this shift, his role was repositioned in 2020 with the title chief legal and governance officer. Over his tenure, Mr. Hendren has spearheaded Wespath legislation for the UMC's 2016, 2019 and 2020 (currently postponed) General Conferences. He leads Wespath's scenario planning initiative, strategizing how Wespath will serve new Methodist expressions and a smaller, legacy United Methodist Church in the expected segmented outcome of General Conference.
Prior to Wespath, Mr. Hendren was an associate attorney at the law firm of Sidley Austin LLP in Chicago, practicing in the areas of ERISA and employee benefits. He also served as a law clerk to Chief Justice William Ray Price of the Missouri Supreme Court. Mr. Hendren received his bachelor's degree in economics from Truman State University in Kirksville, Missouri, his master's degree in economics from Iowa State University, and his law degree from the University of California – Berkeley, School of Law. Mr. Hendren has served as treasurer and secretary/treasurer of the Church Alliance, a coalition of the chief executive officers representing benefit plans from 38 varied denominations. He also chaired the Church Alliance's Core Lawyer Working Group from 2014 to 2018.
"I couldn't be more delighted that Andy will take the reins when I retire at the end of this year," said Ms. Boigegrain. "Andy will certainly add his own flair and vision to how Wespath grows into the future, yet I know he will do so from a foundation of our mission to serve coupled with the strong relationships he already has with our employees, leadership and our Board. Andy is undoubtably the right individual to lead Wespath into this next quadrennium and into the future of The United Methodist Church." Ms. Boigegrain is Wespath's longest-tenured CEO and General Secretary, joining Wespath in August 1994. Under her leadership, Wespath has established and maintained a strong strategic approach to secure the long-term viability of pension plans, retirement savings programs, and health and welfare benefit plans for more than 100,000 clergy and lay employees of the worldwide United Methodist Church.
---
About Wespath Benefits and Investments
Wespath Benefits and Investments (Wespath) is a not-for-profit agency that has been serving The United Methodist Church (UMC) for over a century. In accordance with its fiduciary duties, Wespath administers benefit plans and, together with its subsidiaries, including Wespath Institutional Investments, invests over $28 billion in assets on behalf of over 100,000 participants and over 130 United Methodist-affiliated institutions (as of June 30, 2021). Wespath invests in a sustainable manner that seeks to achieve positive financial, social and environmental impact while upholding the values of the UMC. Wespath maintains the largest reporting faith-based pension fund in the world. For additional information about Wespath Benefits and Investments, please follow us on Twitter, Facebook, Instagram and LinkedIn.