Investment Insights Blog: Intentions and Reflections from a United Methodist Trip to COP27
November 18, 2022

By Jake Barnett
Director, Sustainable Investment Stewardship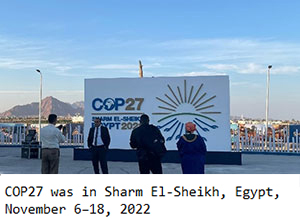 Last week, I attended my first "Conference of Parties" (COP) climate change conference in Egypt. Since it was the 27th COP, you may have heard it referred to as "COP27." This annual conference presents an opportunity for global leaders from governments and civil society to come together, negotiate and engage on important geopolitical topics. Previous COPs led to the Paris Agreement in 2016, and the formation of the Glasgow Financial Alliance for Net-Zero (GFANZ) in 2021.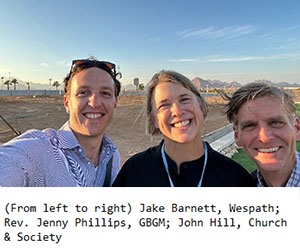 I was lucky to travel to this year's event with peers from The United Methodist Church (UMC) community: Reverend Jenny Phillips from the General Board of Global Ministries, the worldwide mission, relief and development agency of the UMC; and John Hill from the General Board of Church and Society, the agency focused on engaging policymakers and global leaders on positions important to the UMC's mission.
John, an attendee of many prior COPs, was kind enough to lend advice throughout the experience. His most valuable insight may have come before the conference began, when he remarked that COP27 would likely bring on a range of emotions—overwhelming, inspiring, frustrating, grounding and exhausting. With this in mind, and to ground my experience, I went into COP27 focused on three simple intentions. After an action-packed week, I've reflected on these intentions.
INTENTION #1: BETTER UNDERSTAND THE POTENTIAL IMPACTS OF GLOBAL POLICY ON WESPATH'S PORTFOLIO
Why I set this intention: This intention is grounded in Wespath's fiduciary responsibility. Global policy plays a direct role in shaping and influencing capital markets. We believe laws and regulations related to climate change have the potential to create winners and losers that will impact our investments.
Reflections from attending: The event provided insights on key roadblocks and areas of opportunity for global climate policy and investment. One notable moment was a message from Pakistan's climate change minister, Sherry Rehman, who delivered a passionate plea on the urgent need for climate finance to address environmental emergencies. Ms. Rehman spoke about the recent widespread and tragic flooding in Pakistan, calling for strong action today.
It was also interesting to hear from the U.S. convoy of negotiators, who noted that the State Department's ability to move forward on climate finance is limited without stronger political support, which may be difficult to come by given the current partisan gridlock in the U.S. and the challenging near-term economic conditions in much of the developed world.
These conversations underscore the complexities of climate policy, and will help Wespath generate stronger, more nuanced questions and considerations for our asset managers, allowing us to best use our asset owner voice and best-position our investments in a rapidly changing world.
INTENTION #2: FURTHER WESPATH'S SUSTAINABLE INVESTMENT AND NET-ZERO WORK
Why I set this intention: Wespath's sustainable investment work is framed by our commitment to support the transition to a sustainable global economy, which we define as one that promotes social cohesion, long-term prosperity for all and environmental health. By attending COP, I hoped to gain a better sense of how to pursue this holistic work thoughtfully and strategically.
Reflection from attending: After spending time with a diverse group of over 40,000 attendees, it is clear our work on net zero must continue to involve a wide range of perspectives from many different stakeholders. For example, I took part in a Net-Zero Asset Owner Alliance-led private dialogue between finance ministers, lead negotiators and private-sector investment professionals, during which we discussed collaboration on climate issues. Our shared conclusion was a recognition that we must talk more, seek to better understand one another, and find ways to work together more effectively on our shared goals. Many attendees were excited that Wespath's faith-based voice was helping shape conversations.
INTENTION #3: BUILD RELATIONSHIPS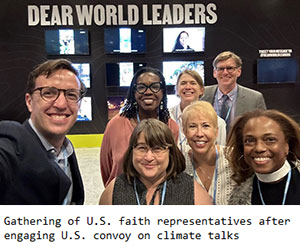 Why I set this intention: The opportunity I was most excited about going into COP was the unique chance to build relationships with people from around the world.
Reflection from attending:. In the span of a week, I met and built relationships with a journalist from India, a Liberian youth activist, a South African negotiator, and folks from various parts of the U.S. I also deepened my relationships with both John and Jenny. These moments—from sharing insights on the meetings we attended, to pondering big questions troubling us, or just laughing together as we unwound from a long day—were a joyful and powerful part of the experience, and I am confident they will lead to further impactful collaboration. Each of these connections helped broaden my perspective and remind me that my experiences come from just one lens in a vast and complex world.
If you would like to hear more about COP27, including the insightful and rich perspectives of John and Jenny, alongside myself, and our colleague Ilka Vega of United Women in Faith, please check out the recordings of our two-part webinar series.