Comment from the CIO: What Does a U.S. Ban on Russian Oil Mean for Markets?
March 09, 2022
On Tuesday March 8, President Biden announced a ban on Russian oil imports, an attempt to further sanction Russia and pressure Russian President Vladimir Putin to end the war in Ukraine.
According to the White House, the U.S. imported 700,000 barrels per day of Russian crude oil and refined products in 2021.1 Although this accounts for less than 5% of total daily U.S. energy consumption, gas prices in the U.S. are expected to continue to rise. In the last week alone, gas prices have spiked 10%, averaging $4.17/gallon across the country and breaking the record high set in July 2008. Coupled with other ongoing inflationary pressures, consumers are feeling squeezed.
The administration is seeking ways to minimize the ban's impact, including approving the release of 30 million barrels of oil from the Strategic Petroleum Reserve (90 million barrels total will be released this year)2, encouraging U.S. oil companies to increase production, and considering talks with other oil-producing nations. One must keep in mind, however, that the U.S. consumes nearly 20 million barrels of oil a day, so prices may remain elevated for some time. An extended ban could also further accelerate the transition to clean energy.
The increase in oil will act as a headwind to the global economy, with the Daily Shot reporting an estimated $75 billion "energy tax" on consumers.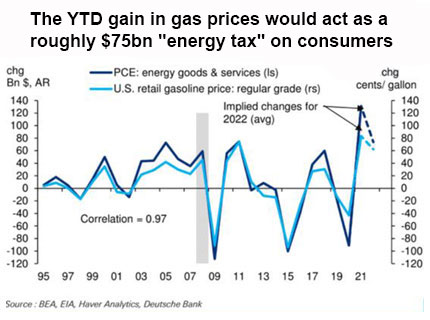 While oil prices are near record highs, when adjusted for inflation and as a percent of global Gross Domestic Product (GDP), they are still lower than in the 1970s and in 2008. However, the higher prices rise and the longer they remain high, the greater the increased chances for a recession and lower asset prices.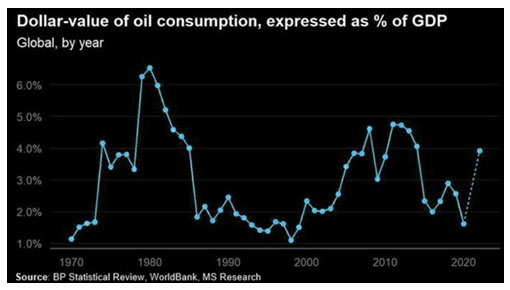 We expect markets will continue to remain volatile in the short-term while the evolving geopolitical situation and resulting economic dynamics unfold. While we realize it is unsettling to watch the markets' swings and feel the crunch of prices at the gas pump, it is important to remember during times of uncertainty markets will experience irrational movements. We continue to adhere to a consistent, long-term and disciplined strategy for managing a diversified investment program.
We again express our solidarity with Ukraine and pray for peace and safety for the millions affected by this devastating conflict.

Dave Zellner
Chief Investment Officer
---
1 https://www.whitehouse.gov/briefing-room/statements-releases/2022/03/08/fact-sheet-united-states-bans-imports-of-russian-oil-liquefied-natural-gas-and-coal/
2 https://www.barrons.com/articles/russia-oil-imports-ban-crude-prices-51646667317