Comment from the CIO: Russia's Invasion of Ukraine
February 25, 2022
(Updated with a chart from Capital Group on February 28, 2022)
On Thursday, February 24, Russia invaded Ukraine following "months of troop and tank buildups, of grim warnings of violence and vague assurances of peace, and of efforts at diplomacy in Washington, the halls of the United Nations and the capitals of Europe."1 This unprovoked attack is a crushing blow to European order as war and the resulting devastation envelop Ukraine and hundreds of thousands of civilians are forced to flee their homes into neighboring countries. This act of aggression goes against the fundamental principles of the Church and our vision for a sustainable economy that seeks long term prosperity for all and social cohesion—an attack against peace and prosperity, is an attack against us all. We send prayers of peace and safety to Ukraine and all those with loved ones who have been affected by this senseless conflict.
Resulting Market Volatility
Following the invasion, global markets' immediate reaction was a flight-to-quality—moving out of riskier investments and into more stable assets. After falling over 2% in morning trade on Thursday, February 24, U.S. equities closed sharply higher on the day, with the S&P 500 up 1.5% and the Nasdaq up 3.4%. This sharp reversal can be attributed to many possible themes: the Russia / Ukraine news was priced in, a full takeover of Ukraine may not happen, equities had already fallen sharply for 2022 into yesterday's trading, and some are suggesting that the markets are now anticipating fewer rate hikes from the Federal Reserve. It is a reminder of why tactical trading is difficult, and that markets climb a wall of worry.
President Biden announced further sanctions against Russia, including cutting the country off from western financial markets, restricting exports of technology to Russia, and freezing Russian assets in the U.S. Western European countries are expected to announce additional sanctions—the situation remains fluid as the world waits to see how Russia will respond.
Trade between the U.S. and Russia is relatively low. Europe's economy is more closely linked with Russia, as it relies to a greater extent on natural gas imports from Russia. The conflict is expected to intensify supply chain disruptions leading to higher inflation and lower growth, likely prompting the European Central Bank to move forward with interest rate increases.
Impact to the Wespath Funds
The Wespath funds' exposure to Russia and Ukraine is low, with less than one half of one percent exposure across all of our funds as of February 24, 2022. We held several meetings with our asset managers and continue to discuss our holdings and closely monitor the situation in Ukraine.
What History Has Shown
While we expect continued volatility as the conflict unfolds, history has shown time and time again that it is normal for markets to experience periods of turbulence. In times of uncertainty, some investors with a short-term orientation will eschew any kind of risk exposure. Long-term investors like Wespath, however, remain invested in stocks.
The chart below illustrates how equity markets have responded historically to geopolitical events. Investors that panic by quickly selling their stock holdings may avoid short-term volatility, but time and time again they often return to the markets too late, and would have been significantly better off had they waited out the downturn.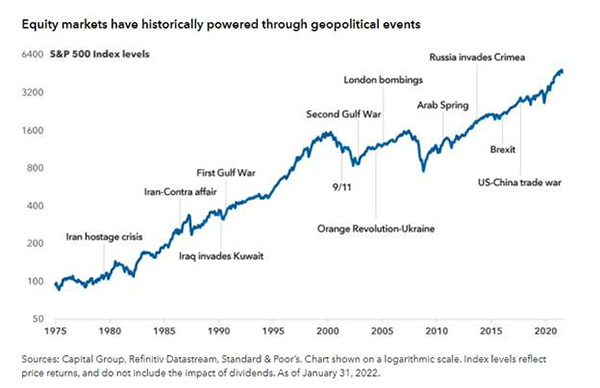 We Invest for the Long-term
Wespath adheres to a consistent, long-term and disciplined strategy for managing a diversified investment program. We continue to follow this strategy in both up markets and down markets, and it has successfully stood the test of time. We are confident that our investment approach is prudent and will continue to faithfully serve the retirement needs of our participants and the missions of our institutional investors.
Sincerely,
Dave Zellner
Chief Investment Officer
1 https://www.nytimes.com/2022/02/24/world/europe/why-russia-attacked-ukraine.html